DU Admission Schedule 2021 | DU Admission 2021 Updates
Delhi University (DU) released the admission details for the academic session 2021-22. DU has released the admission registration for all UG, PG, M.Phil and Ph.D. courses. Candidates can visit on DU website
This year also the process for admission to Delhi University is as online as last time. DU has informed that the website du.ac.in has also been relaunched so that information related to admission can be easily found.
DU Admission Schedule 2021
The process of the online registration form the admission in DU PG Admission 2021 will start from 26 July 2021. The last date for registration is 21st August 2021.
The time for DU MPhil and Ph.D. Admission 2021 registration will also start from 26 July to 21 August.
The process of DU UG Admission 2021 registration will start from 02nd August. The last date to apply is 31 August 2021.
DU Admission Press Release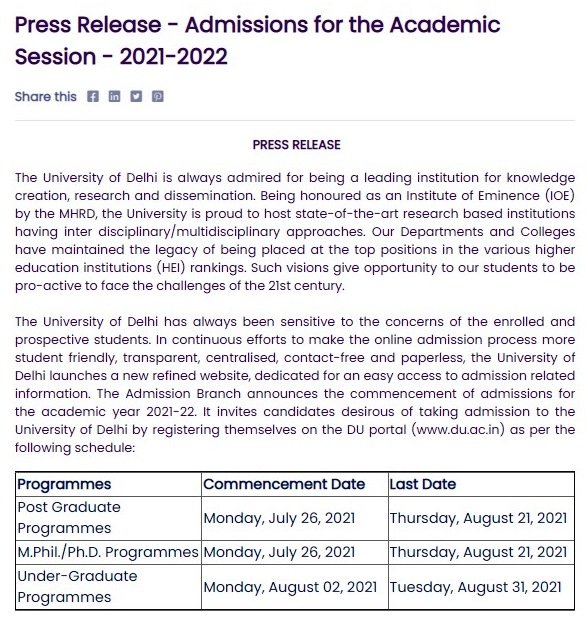 How to apply for admission in Delhi University 2021
Delhi University has cleared that this time also there will be centralized UG admissions like last year. Only one registration cum application form will have to be filled for all departments and colleges. No separate form will be required to be filled. Whereas for applying for more than one course for PG admission, then the form has to be filled only but the registration fee will have to be paid separately.
Are DU admission forms out for UG 2021?
No, The online registration form for UG Admission 2021 in DU Will be started from 2 August 2021 to 31 August 2021.
How can i get admission in DU 2021?
For getting admission in Delhi University Colleges, the first student are required to fill online admission form ( Registration form ) after that Colleges are released their cut off lists, students are advised to apply for the college there he or she meet cut off marks
DU Admission 2021 last date?
Also Read-
IGNOU MA in Urdu 2021 | Master of arts in Urdu Admission
20 percent Admission increased in IGNOU in 2021 due to Corona