Delhi University has released its first cut off list 2020 on 10.10.2020 for admission to undergraduate courses. In the cutoff list released for the academic session 2020-21, the cutoff of BA Honors Political Science, BA Honors Economics, BA Honors Psychology at Lady Sri Ram College for Women (LSR) is 100%.
Admission through first cut off list in Delhi University will start from October 12. Admissions will be taken till 14 October 2020, based on the first cutoff list. The last date for depositing fees for this is 16 October 2020.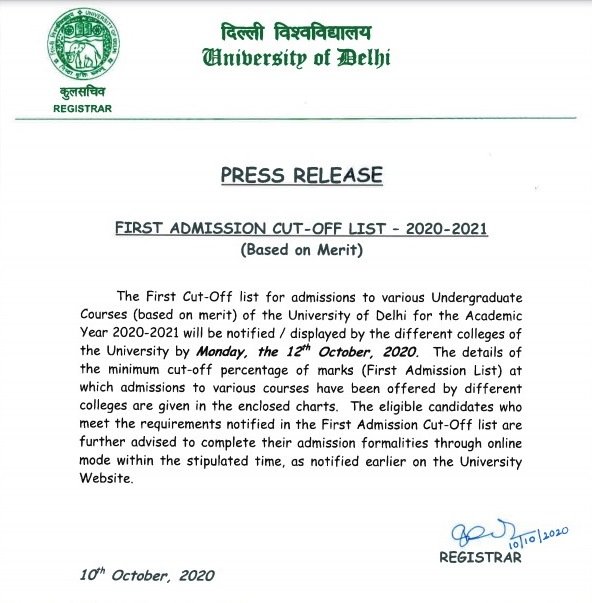 Students can see the First Cut off list on DU's website
First of all, let us know that Ramanujan College and Sri Aurobindo College released their first cutoff list. Ramanujan College has set the cutoff of BA Hons Economics and BA Hons Statistics courses to 97 percent. This cutoff list will be for general classes only. In Sri Aurobindo College, up to 95 percent has been set for the cut-off list of BCom Honors. Students of Delhi University can check the cut off list on du.ac.in to check their status.
In most colleges of Delhi University, the cutoff is above 99 percent in 2020-2021
Hansraj College first Cut off List 2020
BCom Honors cutoff in Hansraj College was 99.25%. Economics cutoff was 98.75%. The English cutoff was one point more than last year. The cutoff for Hindi also increased from 86% to 90%.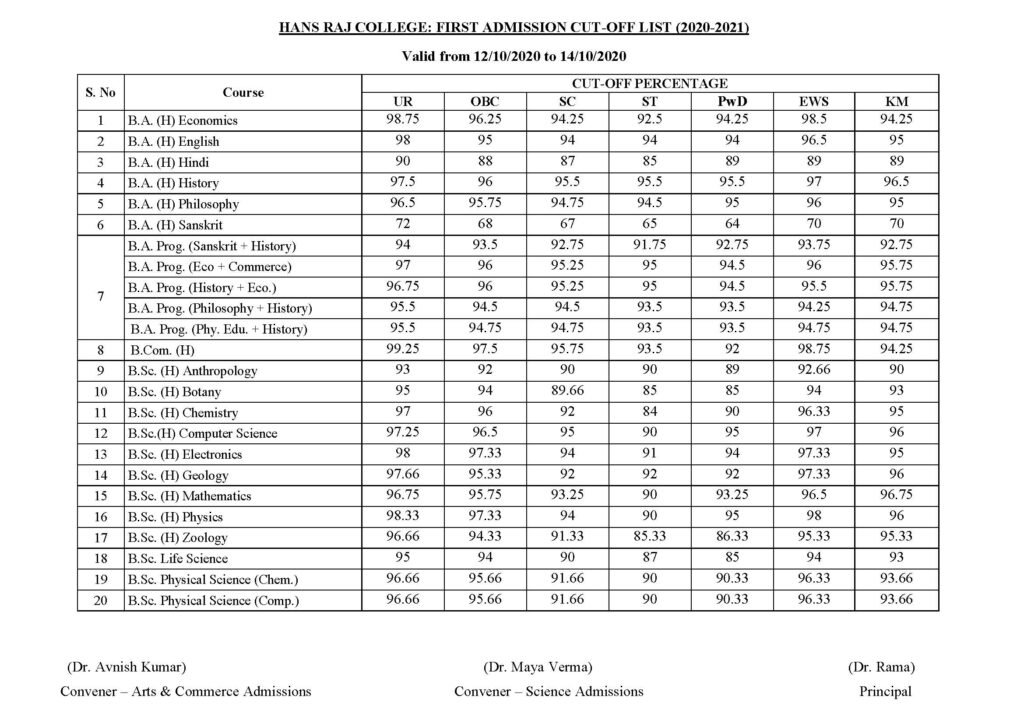 Shri Ram College (SRCC College) First Cut off list 2020
The cutoff in Shri Ram College has increased from 98.5% in 2019 to 99.5% this year. Economics cutoff has also increased by 0.25 percent to 99%.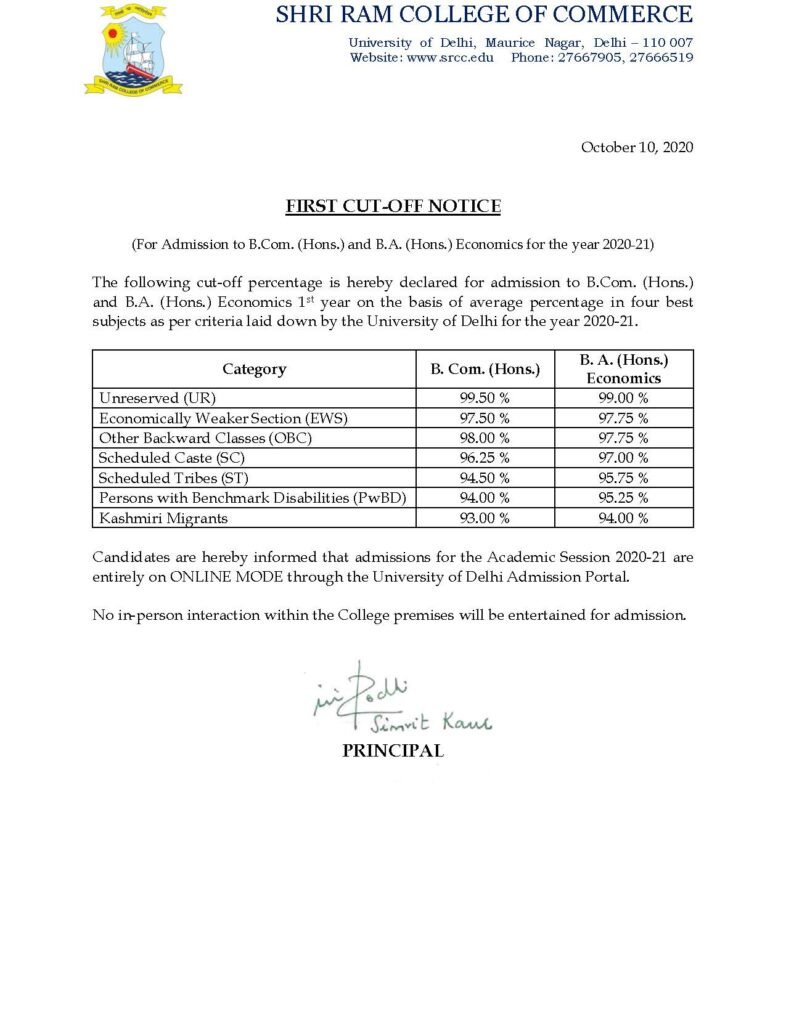 Kirori Mal College Cutoff 2020
Highest cutoff in undergraduate courses at Kirori Mal College was 98.75% in B.Com Hons. While the cutoff in BM Economics and BCom (P) reached 98.5% and 98% respectively.
Aryabhatta College fist cut off list 2020
Economics cutoff in Aryabhatta College increased by two percent to 98%. Here the cutoff of BCom Honors increased from 96 to 97.5 percent. Political science cutoff increased by four points to 95 percent. The minimum marks for admission in English and Psychology have also increased by one and two per cent respectively.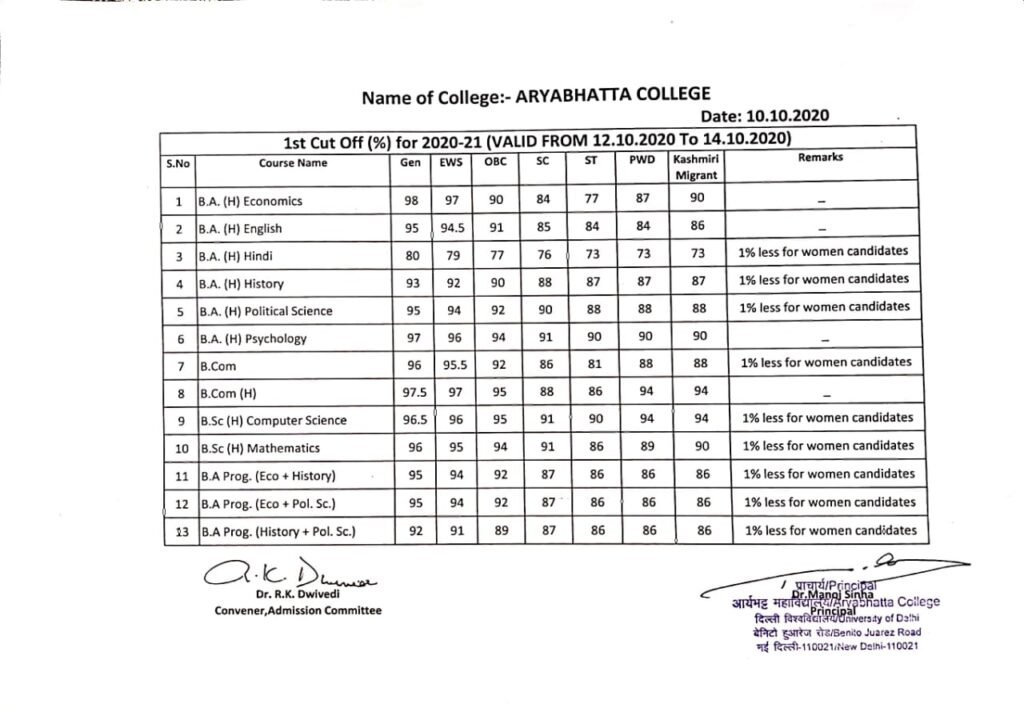 The admission under first cut off will begin on October 12 in University of Delhi (DU)
The admission process will start from October 12. University officials say that this year the cutoff will be high, because many students have scored more than 90 percent. The admission process has been kept completely online this time. The beginning of the new session has been decided from 18 November.
DU Admission 2020 First Cut Off: DU's first cutoff list for vocational studies released, check here
The College of Vocational Studies of Delhi University has released the first cutoff list for various courses. The DU Cutoff List 2020 for College of Vocational Studies (CVS) has been released in online PDF format on its official website du.ac.in.
The College of Vocational Studies of Delhi University has released the first cutoff for 6 undergraduate courses. The highest cutoff for B.A applicants is 96.5%. Which includes B.A (Hons) English, B.A (Hons) Economics and B.Com (Hons).