AMITY UNIVERSITY, Noida, Campus, Courses, Admission, Fees, Ranking, Placements, Scholarship
Brief Description of Amity University
Amity University is India's leading private university. It was established on 24 March 2005, located in Noida sector 125, Uttar Pradesh. Amity University is known for its premium structure, infrastructure, and almost all the courses are provided by this university in India.
Amity got Rank 1 for Non for profit Private University by India Today 2019.
Amity University has 11 campuses in India, including Noida, Greater Noida, Lucknow, Gurgram, Jaipur, Gwalior, Raipur, Ranchi, Mumbai, Patna and Kolkata. All locations are inter-connected with Amity Campus, Noida.
Amity University is also a leader in high technology implementation on all campuses. University has 1000 acres of hi-tech campuses and also the first university with a wireless campus with over 4000 HP & IBM Machines.
Highlights of Amity University Noida, Uttar Pradesh
Head
Deatils
Year of Established
2005
Type of University
Private University
Campus Size
1000 acre
Accredited by
UGC, AICTE, AIU, ACU, NAAC
Courses Offered
250 across 18 streams
Education Mode
Full time & Part time
Total Academic Staff
6000 Approx
Total Students
150000
Fee Range
14 thousand to 8 Lacs
Maximum Package
30 Lacs
Insititue Gender type
Co-ed
Campuses
Noida, Greater Noida, Lucknow, Jaipur, Gurgram, Gwalior, Mumbai, Raipur, Kolkata, Ranchi, Patna
Located
Noida Sector 125, Uttar Pradesh 201313
Ranking
#21 ( Pharmacy ) By NIRF 2020, #32 ( Engineering ) by NIRF 2020, #41 ( MBA ) by NIRF 2020
Website
www.amity.edu
History of Amity University
Amity University was established in 2005 in Noida sector 125, Uttar Pradesh by the State Legislature of Uttar Pradesh and Ritnand Balved Education Foundation.
Amity University founded by the Ashok Chauhan and he is president of Ritnand Balved Edcuation Foundation. Atul Chauhan is Chancellor and Dr. Balvinder Shukla is Vice Chanceloor of Amity University.
It is the first private university to applied reservations for teachers and as well as students.
Amity University Rankings 2020
Amity University Noida has top position in various rankings. Following rankings are mentioned below of Amity University.
| | | |
| --- | --- | --- |
| Ranking By | Year | Position |
| NIRF (Overall) | 2020 | 63 |
| NIRF (Universities) | 2020 | 37 |
| NIRF (Pharmacy) | 2020 | 21 |
| NIRF (MBA) | 2020 | 41 |
| NIRF (Engineering) | 2020 | 32 |
| Times (Word) | 2020 | 1001+ |
| Times (Asia) | 2020 | 401+ |
| Times (Emerging) | 2020 | 350-400 |
| Times (MBA) | 2020 | 7 |
| India Today (HM) | 2020 | 16 |
| India Today (BCA) | 2020 | 7 |
| India Today (Fashion Design) | 2020 | 11 |
| India Today (Architecture) | 2020 | 13 |
| India Today (Mass Comm) | 2020 | 12 |
Amity University Noida, Accreditations
UGC (University Grants Commission)
NAAC (National Assessment and Accreditation Council)
AICTE (All India Council for Technical Education)
AIU (Association of Indian Universities)
ACU
NCTE (National Council for Teacher Education)
DEC (Distance Education Council)
Ministry of HRD (Ministry of Human Resource Development)
DISR, Ministry of Science Technology
Council of Architecture
Bar Council of India
IET (The Institution of Engineering and Technology)
Amity University Last Date for apply, Admission 2020
NOIDA CAMPUS
Last Date- 30 Sep 2020
LUCKNOW CAMPUS
Last date- 30 Sep 2020
JAIPUR CAMPUS
Last date- 30 Sep 2020
GURUGRAM (MANESAR) CAMPUS
Last date- 30 Sep 2020
GWALIOR CAMPUS
Last date- 30 Sep 2020
Amity Univeristy Admission Process
Due to Covid-19, the admission process is completely online this year. Students are required to fill an online application form for admission 2020 by using the official website of the Amity University i.e. www.amity.edu
In 2020, University has changed the admission process. Know the admission 2020
Candidates have to create a video for the interview questions and then upload them on the admission microsite. (This is not for Law Course).
For Law courses, candidates will be selected by the online interview which is conducted by the University.
Usually, University allows admission on merit and entrance based. And those candidates who have 80% aggregate marks in the exams can directly apply for the admission.
The admission begins in January every year and resumes until July. Candidates do apply for admission online by registering themselves on the official website.
Before the Covid-19, there were three options to apply for admission.
1. Registering online through the admissions portal and uploading necessary documents.
2. Offline application form submission. (Download application form from the website)
3. Candidates can buy Admission Pack from the university campus and submission directly on the campus.
Amity University Admission Process for UG Courses
Amity University provides full-time UG courses in different strems i.e Engineering, Management, Commerce, Law and arts.
The admission process in 2020 for all UG Courses is conducted only in online mode.
Admissions to UG Courses (Except B.Tech, B.Arch), The university conducts an entrance exam which is known as Amity Written Test.
The admissions to B.Tech courses are admitted with valid Amity JEE 2020 Score.
B.Arch. Course admission is given on the basis of a valid score in JEE Main 2020, UCEED 2020, NATA 2020.
Amity University Admission Process for PG Courses
For MBA Admission, Candidates are required to get a valid score in Amity Written Test 2020/ CAT 2019/ MAT 2020/ XAT 2020/ CMAT 2020/ GMAT 2020/ NMAT 2020.
LLB admissions are allowed to those candidates who have valid Amity Written Test 2020/CLAT 2020 scores.
Amity University Admission 2020 Result
Admission result will be announced by the Amity University authority through online mode only. Candidates have to check their result by login into admission microsite.
Amity University Admission Result Dates & Counselling date
| | |
| --- | --- |
| Events | Dates |
| Amity Entrance Exam | Oct-20 |
| Results Date | – |
| Counselling Start date | – |
How to Check Amity University Admission 2020 Result (Entrance Test)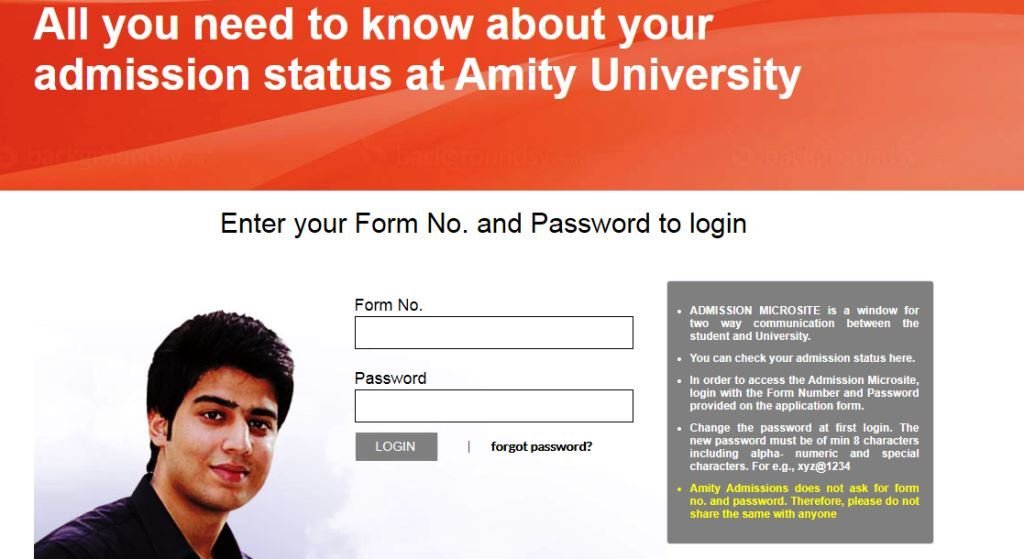 Candidates can check their result for entrance test of Amity University by online. There are some steps below.
Go to the official website of Amity University.
Click on the Admissions tab
Select My Admission Microsite
Now Login with their form No and Password
You will see the result and also will be able to download for further process.
Important Documents for Amity University Admission Counselling
University do calls or emails to qualified candidates for the counselling process.
Candidates must bring their important and mandatory documents while going to counselling.
There are mandatory documents for Amity University Admission Counselling
10th & 12th Mark sheet and Certificate
Amity Entrance Admit Card
Amity Entrance result or Scored Card
Passport Size Photo
Caste Certificate if Applicable
Transfer Certificate
Amity University Noida Courses with Eligibility criteria and Fees
Following details for B.Tech Courses in Amity University
| | | |
| --- | --- | --- |
| Specialization | Eligibility Criteria | Total fees in Lacs |
| Computer Science and Engineering | Candidates should have Class 12 and Class 10 with minimum 60% aggregate and 60% marks in PCM from a recognised board | 15.6 |
| Mechanical | Candidates should have Class 12 in PCM with a minimum 60% aggregate from a recognized board | 10.64 |
| Electronics and Communication | Candidates need to pass Class 12 and Class 10 with minimum 60% aggregate and 60% marks in PCM from a recognised board | 12.56 |
| Electrical and Electronics | Candidates should pass in Class 12 and Class 10 with minimum 60% aggregate and 60% marks in PCM from a recognised board | 10 |
| Civil Engineering | Class 12 and Class 10 with minimum 60% aggregate and 60% marks in PCM from a recognised board | 10.64-13.12 |
| Biotechnology | Minimum 60% aggregate and 60% marks in PCM from a recognised board in Class 12 and Class 10. | 6.8-10.92 |
| Aerospace Engineering | Candidates should have Class 12 and Class 10 with minimum 60% aggregate and 60% marks in PCM from a recognised board | 9.2 |
| Nanotechnology | Candidates should have Class 12 and Class 10 with minimum 60% aggregate and 60% marks in PCM from a recognised board | 9.48 |
| Nuclear Science and Technology | SAME AS BIOTECHNOLOGY ELIGIBILITY | 9.08 |
| Solar and Alternate Energy | SAME AS BIOTECHNOLOGY ELIGIBILITY | 9.48 |
| Avionics | SAME AS BIOTECHNOLOGY ELIGIBILITY | 9.08 |
| Electronics and Telecommunication | SAME AS BIOTECHNOLOGY ELIGIBILITY | 9.08 |
| Bioinformatics | SAME AS BIOTECHNOLOGY ELIGIBILITY | 7.44 |
| Information Technology | SAME AS BIOTECHNOLOGY ELIGIBILITY | 11.16 |
| Aeronautical Engineering | SAME AS BIOTECHNOLOGY ELIGIBILITY | 12.44 |
| Automobile Engineering | SAME AS BIOTECHNOLOGY ELIGIBILITY | 12.44 |
| Industrial Heavy Machinery | SAME AS BIOTECHNOLOGY ELIGIBILITY | 11.8 |
| Aerospace Engineering | SAME AS BIOTECHNOLOGY ELIGIBILITY | 9.2 |
| Electronics and Instrumentation | SAME AS BIOTECHNOLOGY ELIGIBILITY | 7.48 |
| Electronics and Telecommunication | SAME AS BIOTECHNOLOGY ELIGIBILITY | |
| Food Technology | Candidates require to clear Class 12 with PCM/PCB with at least 60% aggregate from a recognised board | 7.68 |
| Artificial Intelligence | Candidates require to clear Class 10 and 12 with at least 60% aggregate and 70% in PCM from a recognised board | 13.2 |