DU Admissions 2021 Updates
Admission to the undergraduate courses in Delhi University will be done on the basis of merit ie cutoff. Putting aside the possibility of having Central University Common Entrance Test (CUCET) in this academic session, the DU administration on Saturday said that admission in UG courses will be done on the cut-off of class 12th score like every year.
Apart from this, in view of the situation of covid 19, this time also there will be neither offline nor online trials for Sports and Extracurricular Activity (ECA) category, but admission will be done on the basis of participation certificate.
There will be admitted for 65 thousand UG and 20 thousand PG, MPhil-PhD seats in DU. The admission window for entrance-based undergraduate courses and postgraduate courses, MPhil-PhD, will open from July 26. At the same time, registration for merit-based undergraduate courses will start from August 2.
How to get admission in du with low percentage
DU Admission Schedule 2021 | DU Admission form online
DU UG Admission forms till August 31

UG admission process will start in DU after the 12th result of CBSE on 31st July. From August 2 to August 31, students will have a chance to fill the form online. There will be no CUCET this session. DU Chairman Admissions Dr Rajeev Gupta said, "Admissions for UG courses will be done only on the cutoff, as was done till last year. The Admission Branch is working on a framework to fix cutoffs with the principals of all the colleges so that the situation of over- or under-admitted seats does not come to the fore.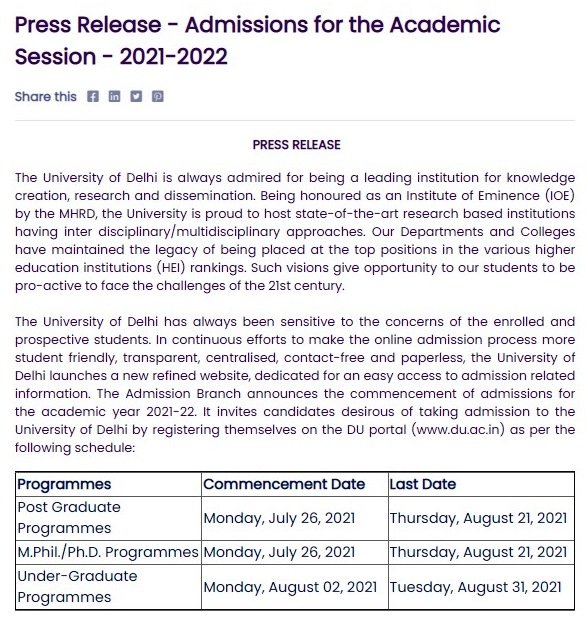 Registration starts for DUET on 26 July 2021
The registration process for DU courses for which Delhi University Entrance Test (DUET) is conducted will start from July 26 and will continue till August 21. These include 9 UG, all PG and MPhil-PhD programmes. DU Vice-Chancellor Prof PC Joshi told that this computer-based exam will be conducted by the National Testing Agency (NTA) across the country.
No ECA Sports trials in DU 2021
In DU, 5% additional seats (supernumerary) are reserved for sports and extra-curricular activities (ECA) category. In view of Covid, this time also there will be no trials of any kind. These seats will be filled on the basis of merit / participation certificate of the students. Only this academic session students are being allowed to upload certificates for four years (1 May 2017-30 April 2021) instead of three.