JK Police SI Recruitment 2021
Jammu and Kashmir L.G Manoj Sinha (Lt. Governor) has announced the Police Sub-Inspector SI Recruitment for all the youth of the Jammu & Kashmir.
The Governor through his official Twitter handle has informed about hundreds of police recruitments to be started in the state. He wrote that, "Today (June 18, 2021) the proposal for recruitment of 800 sub-inspectors in Jammu and Kashmir Police has been approved."
JKSSB will soon issue notification of JK Police SI Recruitment 2021
Jammu and Kashmir Service Selection Board (JKSSB) is going to start the recruitment process for the post of Sub-Inspector soon. A total of 800 Sub Inspectors will be recruited in Jammu and Kashmir Police through this recruitment drive.
How to get job of JK Police SI Recruitment 2021?
Jammu and Kashmir Lieutenant Governor Manoj Sinha shared the important information related to the recruitment by tweeting several times. He wrote, "In a historic revamp of the recruitment process, the Services Selection Board (SSB) will now carry out the selection process for all non-gazetted posts in Police, Prisons and Fire and Emergency Services Departments. Selection to the posts will be on the basis of written and physical test.
Steps up for 25000 jobs in Jammu & Kashmir
He further said that 25000 more jobs will be recruited in various public or government sector in the state for the empowerment of youth. His tweet read, "To empower the youth of J&K, the UT Administration is moving towards expediting the process of recruitment of 25,000 promised jobs in public sector or government departments."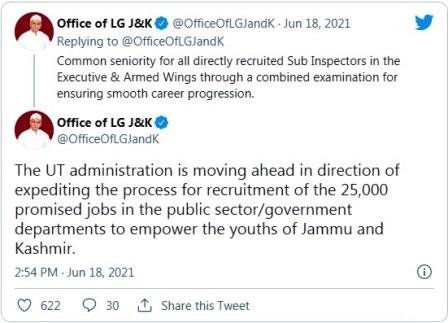 Keep an eye on these websites for jobs
Interested and eligible candidates are advised to keep an eye on JKSSB official website jkssb.nic.in and J&K Police official website jkpolice.gov.in for latest updates on new recruitment.
Official website of Jammu & Kashmir Services Selection Board – Click Here
Also Read-