UGC Academic Calendar 2020-21
The Minister of Education has released Academic Calendar for academic session 2020-21 in Universities, Colleges, Autonomous Colleges, Private Universities and other Higher Education Institutions across the country.
According to the information provided by the Minister of Education shortly before now, "The University Grants Commission (UGC) has given Academic for Undergraduate and Post Graduate (Courses) students for the year 2020-21 in view of the Covid-19 epidemic.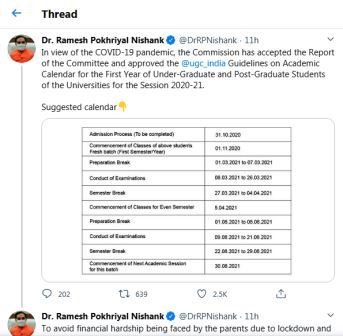 Accepting the report of the committee for the UGC guidelines for the calendar.
According to the UGC UG / PG calendar shared by the Education Minister, the admission process in all higher education institutions is to be completed by 31 October 2020.
And the first classes for the first semester fresh batch will start from 1 December 2020.
Also one week preparation break from 1 March to 7 March and examinations will conduct from 8 March to 26 March 2021.
UGC UG / PG Academic Calendar 2020-21
Date of completion of admission process – 31 October 2020
Starting date of classes for first semester fresh batch – 1 December 2020
Break for preparation of examinations – 1 March 2021 to 7 March 2021
Period of conducting examinations – 8 March 2021 to 26 March 2021
Semester Break – 27 March to 4 April 2021
Commencement of EVEN semester classes – 5 April 2021
Break for preparation of examinations – 1 August 2021 to 8 August 2021
Period for conducting examinations – 9 August 2021 to 21 August 2021
Semester break – 22 August 2021
Starting date of next academic session for this batch – 30 August 2021
Full fees will refund for canceling admission or migration
The Education Minister, along with the issuance of Academic Calendar for the new academic session, said, "In view of the financial difficulties faced by the parents due to lockdown and related problems, the cancellation or migration of admission taken for this session till 30 November 2020. In the event the full fees will refund to the students. "
New – Six-day weeks and no summer & winter breaks
All the universities may follow a 6-day week pattern for the academic session 2020-21 and 2021-2022 to compensate the loss for this batch of students.