The controversy over the removal and non-re-appointment of 12 adhoc teachers of Vivekananda College of Delhi University is not over yet. Now in this case, DU has refused to give a 6-month extension to the college principal. This action has been called by the Teachers' Association to oppose them and the social victory of the teachers.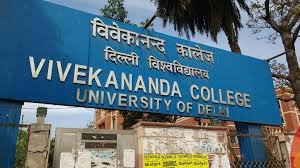 Let us tell you that the governing body of the college had decided to give a 6-month extension to the principal. But DU has not approved this proposal. The reason behind this has also been told by the principal to remove 12 adhoc teachers.
The Delhi Teachers Association (DTA), the teacher organization of the Aam Aadmi Party (AAP), has been demanding the re-appointment of 12 Adhoc Teachers for the last three weeks and their removal from the post on completion of the five-year term of the Principal. It has been called the victory of social justice.
Atmosphere of happiness among the adhoc teachers.
In-charge of Teachers Association, Dr. Hansraj Suman has said that it is a decision taken by the university administration not to give extension to the principal of Vivekananda College in the interests of teachers. He has told that as per UGC rules, the tenure of the principal is now five years. But the principal of Vivekananda College was over five years old. The acting principal has to take extension from the university after every six months.
But due to non-reappointment of 12 adhoc teachers for the last 29 days, questions were being raised on the university administration that it was saving the principal.
Meanwhile, the college governing body had demanded a six-month extension to the principal, which the university flatly refused to give them. Dr. Suman has told that the governing body has started searching for a new principal for the preparation of alternative system.
A new principal will be appointed soon in Vivekananda College
Dr. Suman has told that in whose name she will stamp on the demand of Senior Teacher or OSD to appoint a new Executive Principal from the University Governing College Governing Body. A new principal will be appointed soon.
It is believed that the new principal will reappoint these 12 adhoc teachers. Dr. Suman has again demanded from the university administration that during his tenure, in the name of EWS roster and workload, he has given mental torture to the teachers by removing them, changing the roster and has demanded an inquiry from the university.
Dr. Suman has also demanded from the Delhi University administration that in view of the letter sent to the college and university sent by the OBC commission, besides changing the posts of EWS roster and SC, ST, OBC quota, they also investigated the workload abolition. Be provided.